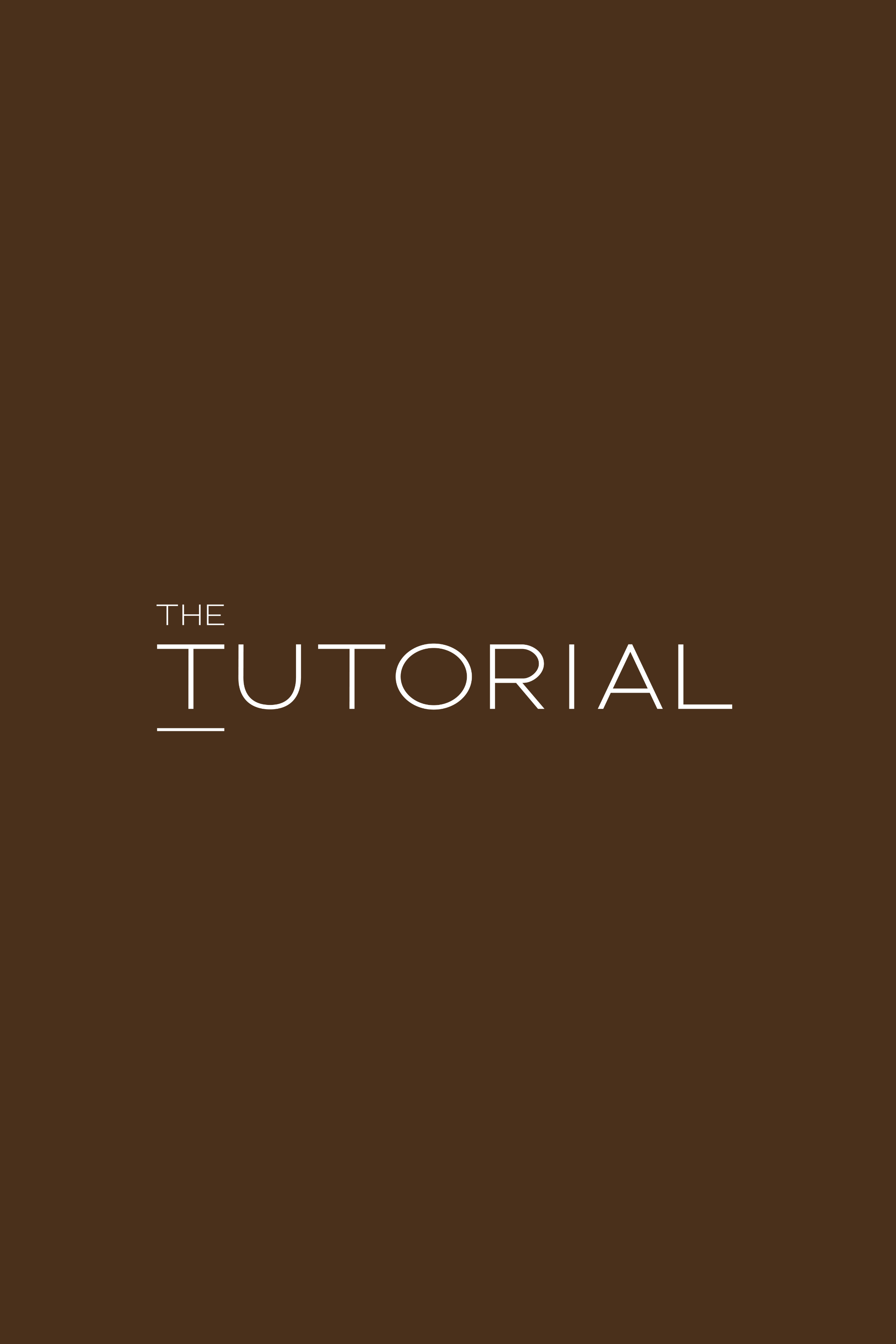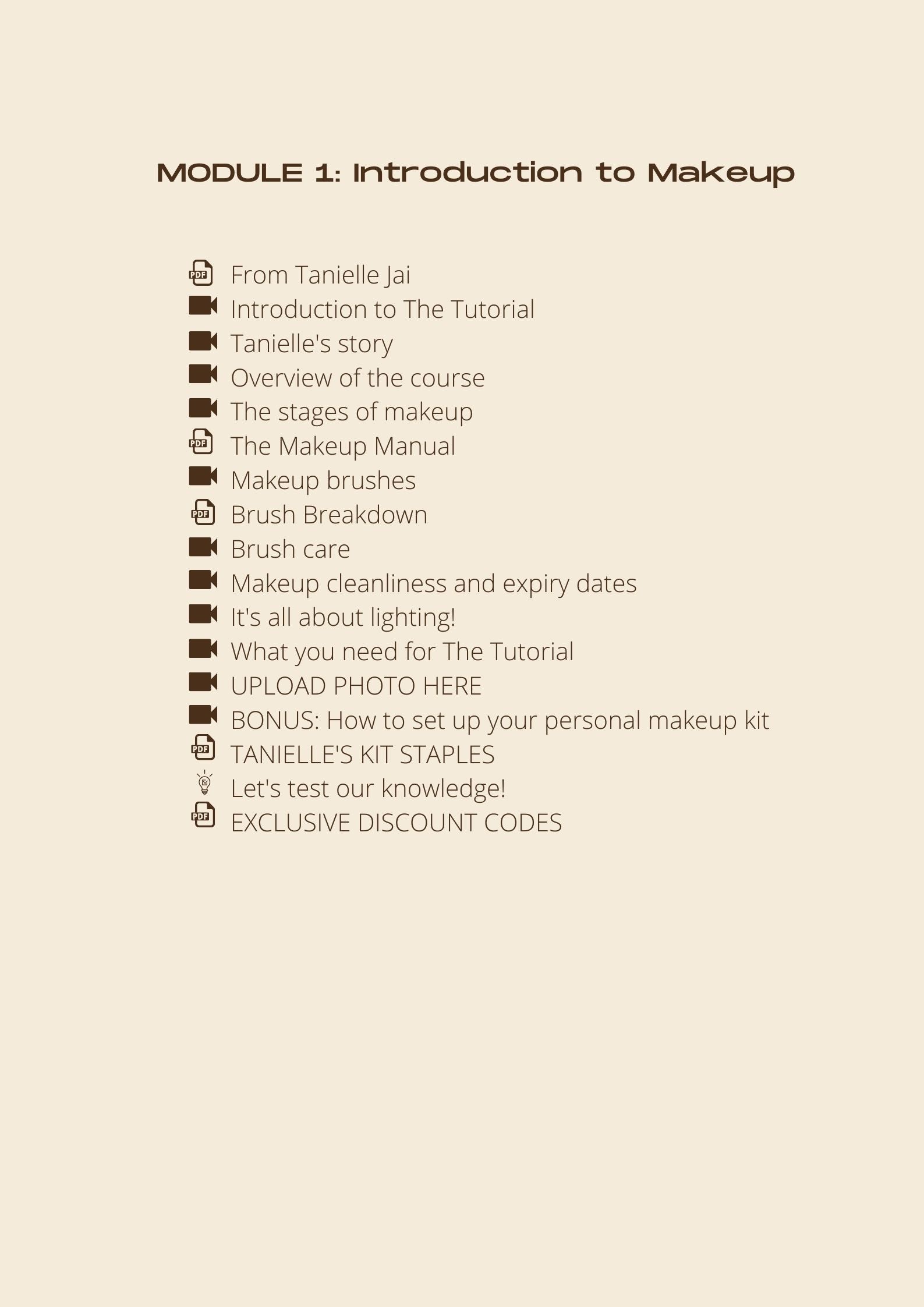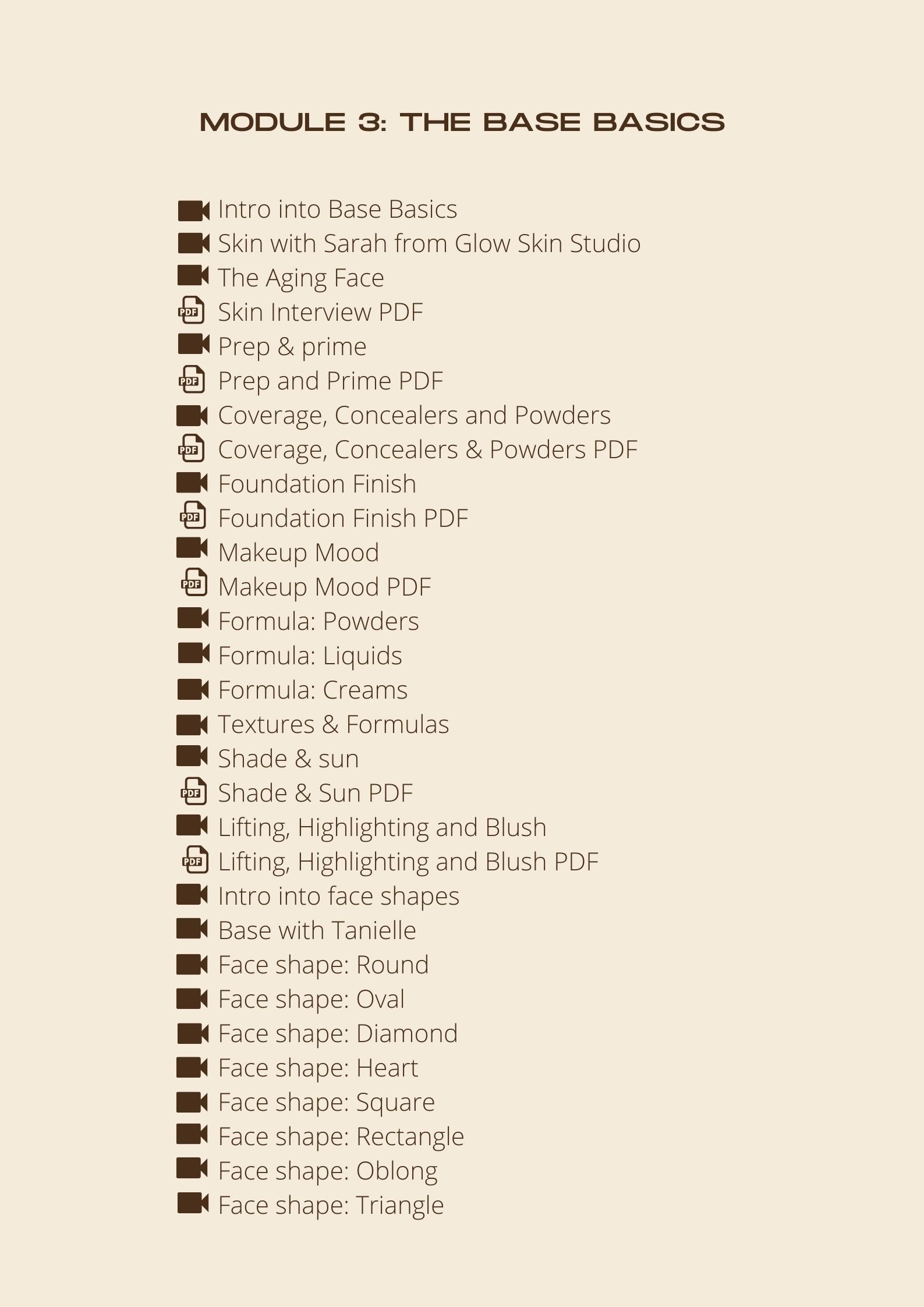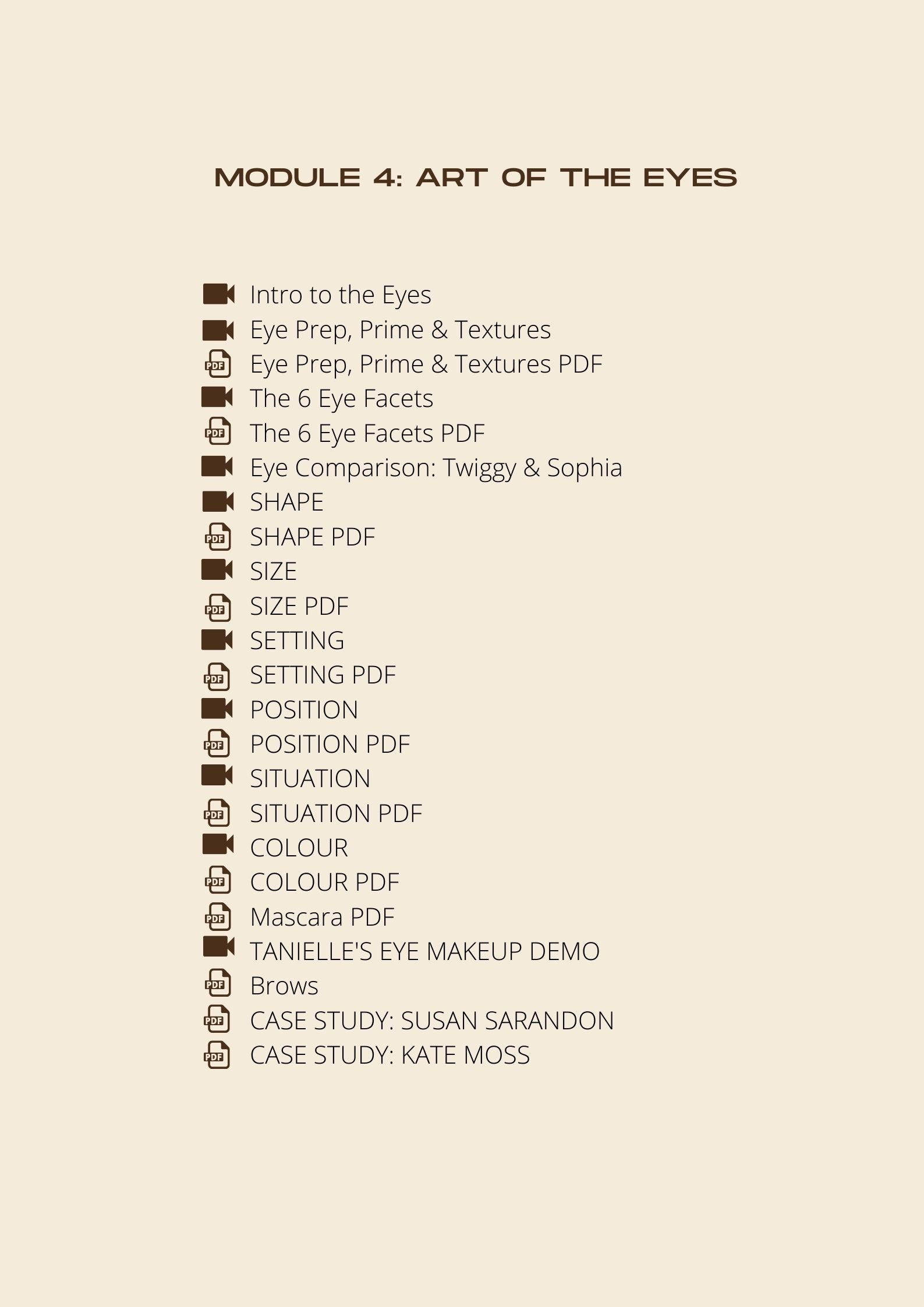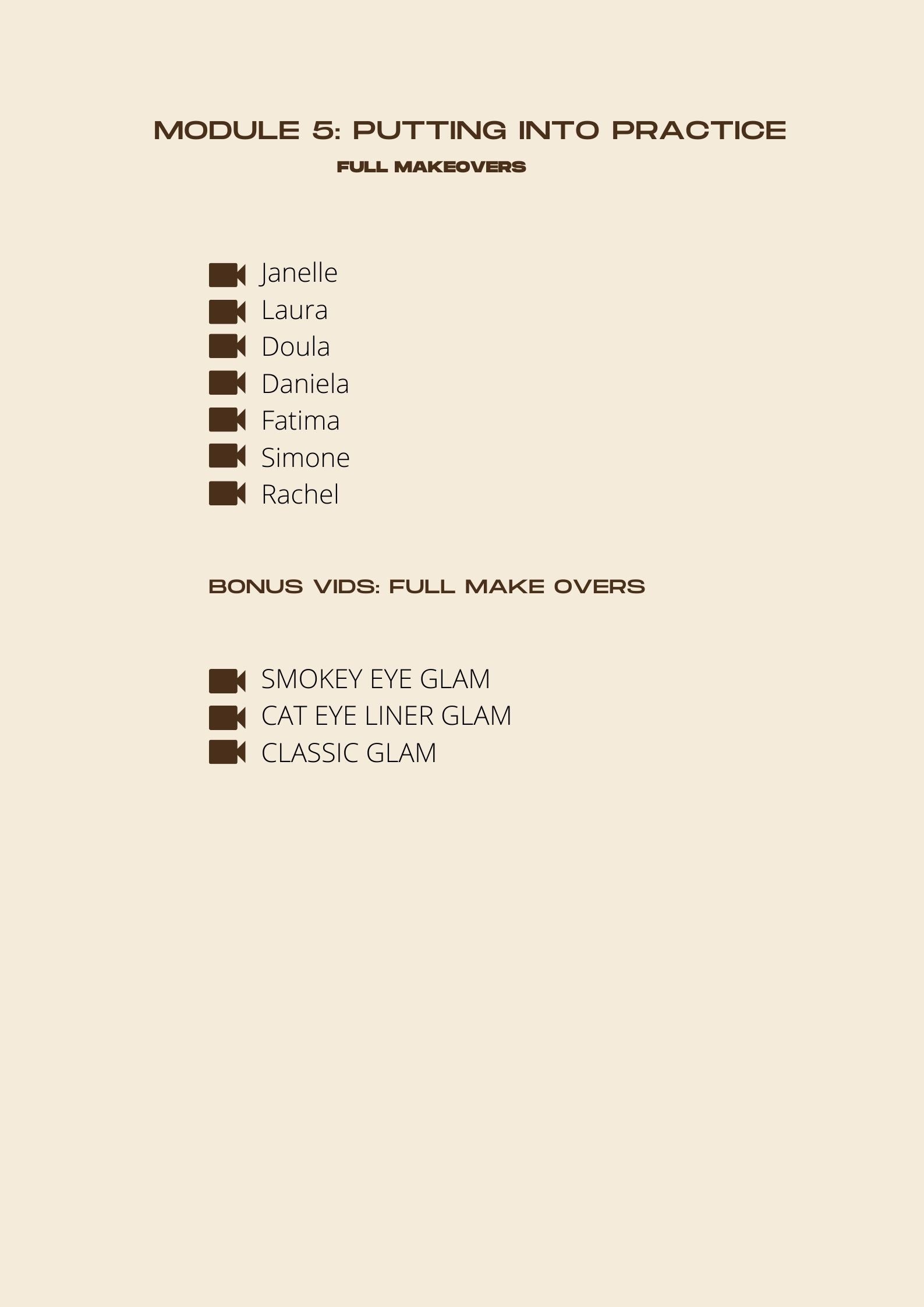 It's easy to teach you how to copy a look, but I will teach you how to create a look! 
PAYMENT PLANS AVAILABLE - EMAIL: INFO@TANIELLEJAI.COM
With her 16 years of makeup knowledge, Tanielle Jai makeup artist is inviting you to join her in The Tutorial to come behind the scenes in an all revealing makeup course. Equipping you with the skills to not only learn the how-to's of makeup but all the reasons why.
Allowing you to learn at your own pace over a one year subscription, this course delves into all the in-depth details of makeup application. With the focus of 5 modules & over 20+ hours of content this course will give you a solid foundation of knowledge to create beautiful makeup looks & total confidence to perfect your makeup through each changing season, style and age.
WHO IS IT FOR? 
'The Tutorial' is the ultimate online makeup course that aims to cover everything; to the beauty enthusiast wanting to understand the essential basics for flawless makeup, to techniques for the professional makeup artist wanting to elevate their skills to customise looks on clients. This course is designed for YOU. 
WHAT'S INCLUDED:
ONE YEAR ONLINE SUBSCRIPTION TO 'THE TUTORIAL.' 
INTRODUCTION TO MAKEUP

COLOUR THEORY: HUES & YOU 

THE BASE BASICS

THE ART OF THE EYES

PUTTING IT INTO PRACTICE
20+ HOURS OF CONTENT SPREAD OVER 50+ VIDEOS
7 DIVERSE MODEL MAKEOVERS



COMMUNITY PAGE TO CONNECT WITH OTHERS
EXCLUSIVE DISCOUNTS TO SOME OF TANIELLE'S MOST-LOVED BRANDS
THE SKILLS TO LOOK ABSOLUTELY FLAWLESS
CERTIFICATE OF COMPLETION 
*SUBTITLES AVAILABLE FOR HEARING IMPAIRED*
Share
Great tutorial!
I am interested in makeup artistry and kept on having to spend money on courses that would never properly cover everything this does, i have struggled with colour theory and every course goes over it briefly except this one, in depth and worth the price!
A Must-Take Online Makeup Course for All Makeup Lovers!
I had the pleasure of taking a class featuring Tanielle Jai on another platform and was instantly in love with her techniques. So I was elated when she came out with her own course! As a Makeup Artist and Enthusiast I am always searching for new ways to elevate my makeup game and style and, let me tell you, this course really delivers that and inspires my creativity!
Tanielle's passion for makeup truly shines through, her expertise and talent are evident in every lesson and she cultivates an environment that makes you feel like you're right there in the same room- receiving personalized instruction. Artists of all skill levels can follow along easily as each lesson is meticulously planned and executed. The high quality video ensures you don't miss a single detail and her online platform is very user friendly.
Here is a pic of one of her looks I recreated and is hands down my favorite makeups for me.
10 out of 10 would recommend this course to anyone looking to learn (*literally*) Everything/anything about makeup.
Thank you Tanielle 🫶🏼
I gotta say this was hands down the best investment for my business. I learned so much more from Tanielles course than I did in school. She goes over EVERYTHING in depth. There are a lot of great tips that you don't even think of. She is also hilarious so it makes you enjoy learning. I feel soo much more confident in my work than I did before. Also I'm OBSESSED with her brushes! They actually save me a lot of time because they are so easy to work with. Thank you Tanielle for willing to share your knowledge with everyone and for making me feel inspired again. 💗
10/10
I have no words other than *chef's kiss*🤌🏼
Everything you need to know to level up your makeup skills and expand your own knowledge, you don't have to be a makeup artist to do this course, it is designed for anyone who is willing to listen, learn and do the work. Super user-friendly and easy to navigate. You won't regret it, money well spent!
The Tutorial is AMAZING!
As a makeup artist wanting to improve and advance my skill set, The Tutorial has more than exceeded my expectations - IT'S AMAZING, like WOW! Not only is The Tutorial extremely in depth and thorough, it is also entertaining and fun to follow along. Tanielle's energy, wealth of knowledge and expertise shows through every aspect of The Tutorial and is unlike any makeup course I have completed before. Can you tell I am a bit of a fan girl ?! I am OBSESSED with Tanielle's makeup work and skill set. I particularly love that The Tutorial isn't a how to guide to copy paste Tanielle's style but provides all the fundamentals to embrace your own signature style! Investing in The Tutorial has reignited my passion and I am inspired to continue excelling in my makeup career like an absolute BOSS! From one makeup artist to another, if you are considering The Tutorial this is your sign to take the leap & DO IT!!