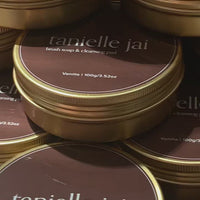 Brush Soap & Cleansing Pad
The Tanielle Jai Brush soap is a solid soap that contains a built-in silicone cleansing pad to help remove stubborn makeup and keep your brushes squeaky clean. The vanilla-scented soap is activated by water, work your brushes into the soap until you create a bubbly consistency to help eliminate any build up of product and bacteria.

Your brushes are as delicate as the hairs on your head! So it's really imperative that we look after them to keep them in the most immaculate condition. Unwashed brushes can also lead to serious skin infections so cleansing your brushes is as important as cleansing your skin! 
Keeping your brushes in optional condition is as easy as these five simple steps. 
Step 1: Simply wet your brush and swirl the brush into the soap. 
Step 2: Rinse then gently massage into the cleansing pad.
Step 3: Rinse under warm water until bristles become clear. (Do not submerge brushes into water or soak the handles in water).
Step 4: Gently squeeze out the excess water into a towel and lay flat to dry. 
Step 5: Place Brush Guard over 1. BASE, 3. CREAM BUFFER, 4. FACE POWDER & 5. HIGHLIGHT brushes to keep original shape. 
PRO TIPS: Also read our page on 'Brush Care' here
To remove stubborn stains use a stain remover like 'Sard soap' followed by your Brush Soap.

For glossy stubborn textures your eye makeup remover or all natural dishwashing liquid which will help to break down any oily or stubborn formulas to clean the brush thoroughly. Again once cleansed, follow with your Brush Soap to cleanse and condition.  
If your brushes lose their shape, give them a wash and dry them with their brush guards on and they will mould back into shape.

Do not store your brushes face down in the bag as this will ruin their shape.

After cleansing your brushes, avoid standing up instead lay flat as this will ensure the water or alcohol cleaners you use do not dissolve the glue resulting in the brush hairs excessively shedding. 
Ingredients 
Ingredients: Sodium Palmate, Sodium Palm Kernelate
Sorbitol, Propylene Glycol, Aqua (Water), Glycerin, Sucrose, Sodium
Lauryl Sulfate, Coconut oil, Shea Butter, Fragrance/Perfume/Aroma,
Titanium Dioxide, Yellow No.5 , Blue No.1, Red No.40,  Red No.33
Love this product
Beautiful smell, and excellent for cleaning brushes. Would not use anything else.
Brush soap
Excellent product, quick and easy! Wouldn't be without it!
LOVE!!
Such a great product!! So easy to use and worked really well on my brushes and smelt really great too! Big shout out to the amazing packaging of the products too, so aesthetically pleasing and beautiful. Would highly recommend
Super easy!
Easy to use, I love how compact it is and how clean it gets my brushes all while being a gentle wash - would definitely recommend!
Beautiful
This brush soap is amazing. It cleans the brushes back to brand new. Also it smells so good.