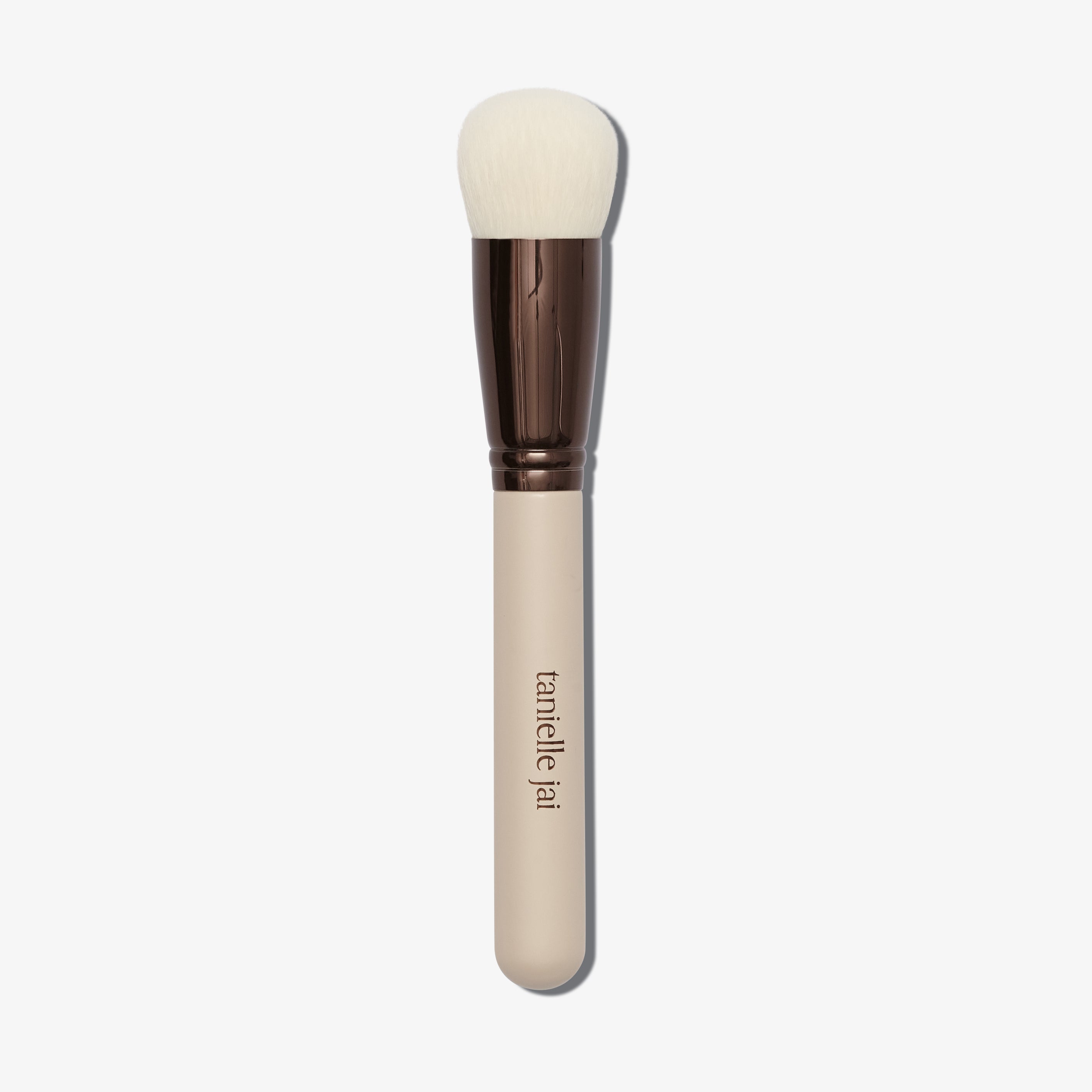 A brush that can do everything; blend, buff, build and apply.

The beautiful large design has rounded edges to diffuse, helping to whip out your base in a matter of seconds. This base brush can also be used to apply body makeup as well as add contours and colour to the cheek. 
Pro tip: 
Hold the brush in the centre so you don't apply too much pressure and buff away all your beautiful work! This brush comes with a brush guard to keep the hairs in shape, use your brush guard after use and after washing.
Material: Premium Synthetic Hair, Coated Copper Ferrule, Painted Wooden Handle

Brush Care: Please refer to the 'Brush care' page for tips and instructions on regular cleaning processes.
Caution: DO NOT SOAK/SUBMERGE hairs and handles in heavy Alcohol or Water. Alcoholic Brush cleaner should only be used on the hairs sparingly. Heavy alcohol cleaners, if used in excess, can strip the paint off of the copper ferrule and wooden handles. To keep the integrity of the delicate brush hairs opt for a gentle deep cleaning product like the Tanielle Jai Brush Soap & Cleansing Pad. 
Share
WOW!!
The best base brush I have ever used! It applies my foundation so perfect and smooth. Easy to clean also. Would highly recommend!
It's not a want, it's a NEED!
All I can say is this brush is AHHMAZING!
Just trust me, put it in your basket. You will thank me later 😎
Base brush
I love this base brush - so much so that I bought two more ! Foundation glides on effortlessly and blends so smoothly for a flawless finish.
Best foundation brush
Absolutely obsessed with this brush, the soft bristle and the way it blends foundation it's incredible and so easy to work with as it's a great size that does the job in seconds.
Best Brushes Ever!!!
Love love love these brushes. Makeup is applied so beautifully. Wouldn't use any other product. Highly recommend